Home Upgrade – Top 14 Smart Ways To Upgrade Your Home
Designing a home that accommodates your living needs and reflects your style can be challenging, especially when working with a tight budget. Nonetheless, revamping your living space without breaking the bank or investing too much time in extensive renovations is possible.
You can easily transform the look of your home with simple, budget-friendly upgrades. If you want more ideas on enhancing your living space, you can explore these 25 Home Upgrades suitable for any budget.
1. Make Your Book Covers.
Looking to give your bookshelf a new look? Consider creating your book covers using scrapbook or craft paper. Cut the piece to the size of your book and fold it to fit.
Interior designer Nancy Charbonneau recommends leaving the spines blank or writing in book titles using the same handwriting style to create a seamless appearance. This easy DIY project is a great way to freshen up your bookshelf without spending much money.
2. Bring In Some Greenery.
According to Nancy Charbonneau, an interior designer, adding plants to your indoor space can be an affordable way to brighten up your room if you have a garden or yard. You can easily achieve this by collecting branches and leaves and putting them in water.
Some recommended plants include magnolia branches, philodendrons, holly trees, liriope, African iris grass, sago palm fronds, and ferns. You can also check out a list of 20 easy-to-care-for houseplants that add beauty to your home.
3. Add Lighting To Your Closet.
If you're struggling with finding items in your dimly lit closet, there's a simple and cost-effective solution that doesn't require the services of an electrician. Daniele Busca, the creative director for home goods company Scavolini USA, recommends adding LED light strips and a trendy rug to spruce up your wardrobe.
Busca also suggests incorporating a large mirror and organizing your belongings to enhance the overall aesthetic. If you're seeking additional ideas to revamp your wardrobe, you can explore these 20 effortless tips for maintaining an organized closet.
4. Declutter Your Space.
According to Busca, decluttering is one of the simplest and most cost-effective ways to transform your living space. Removing unnecessary or excessively used items can instantly refresh the room's appearance.
Unless an object holds significant sentimental value, Busca advises disposing of it without hesitation, as it can free up space and enhance the area's overall aesthetic.
5. Update Your Door Hardware.
Ted Roberts, Allegion's style and design chief, suggests that updating door hardware can be a simple and customizable way to transform the look of any space, whether you want to change the feel of your bedroom or your front door.
This project can be tailored to your design preferences and installation needs and can be done on a budget. Furthermore, if you want to enhance your home's curb appeal, there are 40 simple tricks that you can try.
6. Apply a New Layer Of Paint On Your Door
You only need a can of spray paint to reduce the cost of remodelling your door. According to Melanie Hartmann, the owner of Creo Home Buyers, you can use spray paint to update outdated finishes like brass on light fixtures and knobs.
This simple trick can completely change the appearance and atmosphere of a room, making it more stylish and modern. For additional useful information, you can subscribe to their daily newsletter.
7. Refinish Your Old Doors.
If you have a door that's seen better days, refinishing it can add instant appeal to any room.
Refinishing a door will "breathe new life into it," says Megan Thompson, owner of Denver-based interior design firm Spark Interiors. "A new coat of finish will not cost much and will reinvigorate your home with new feelings of antiquity and charm."
8. Add Some Floating Shelves.
You don't have to decorate every home surface with your cherished items. Rather, you can opt for floating shelves to showcase your collections tastefully.
According to Sarah Macklin, an interior designer at Dream of Home, these shelves are inexpensive yet can add character to a room that would otherwise be plain. Furthermore, you can easily swap out the items on the shelves when you feel like revamping the space.
9. Paint a Chalkboard.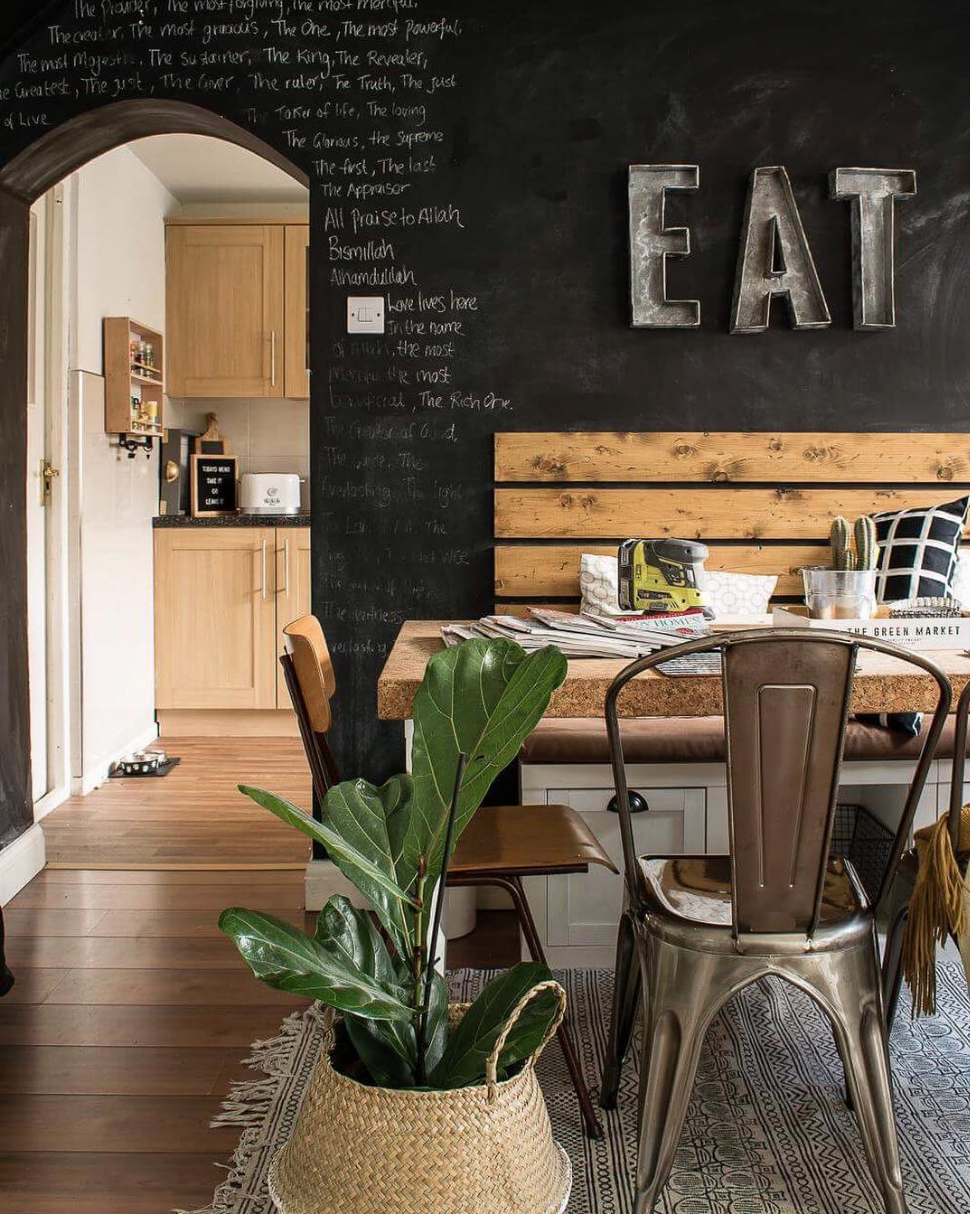 One way to tidy up and enhance your living area is by installing a chalkboard wall in your entrance room. This will not only serve as a convenient spot for jotting down reminders or messages to your household members, but it can also serve as a playful decorative feature.
Shaun Martin, the proprietor of Watson Buys, recommends utilizing the blackboard to sketch a picture or write a message from your dwelling to yourself every week. He notes that arriving home to a charming note from your home can be a delightful experience.
10. Add Colour To Your Hallway.
According to Courtney Keene, who is in charge of operations at MyRoofingPal, incorporating some colour into a narrow area, such as a hallway, can make a significant difference if the colour selected is appropriate.
To create the impression of more space, Keene recommends opting for lighter-coloured paint in these areas. This approach will prevent the colour from dominating your home, like painting an entire room in a bold shade might.
11. Add a Few Hanging Plants.
Adding a few hanging plants can transform any room into an indoor garden. This will add beauty and interest to the space and is also a cost-effective and mood-enhancing option.
Additionally, according to Claire Boyle from ePlanters, hanging plants can create an illusion of taller ceilings by drawing the eye upwards. To achieve an interior jungle vibe, Boyle suggests using hanging planters with a string of turtles or a series of pearl plants, creating a cascading veil of greenery.
12. Install a Beautiful Fireplace Surround.
If you don't have a functional fireplace, you can still enhance the appearance of your living room by adding a stylish fireplace surround.
You can find beautiful and detailed wooden or marble fireplace surrounds at places such as antique shops and home improvement centres like the Habitat for Humanity ReStore. This is an affordable way to upgrade the look of your living room and make it appear luxurious.
13. Bring In a Large Leaning Mirror.
You can use a large mirror as the centrepiece to create the illusion of a larger and more coordinated space.
By reflecting the surrounding area, the room will appear more spacious and deeper, even if it has limited square footage, according to Jamie Safier, a luxury real estate agent at Douglas Elliman in New York City.
14. Make Cushions Part Of Your Seating Arrangement.
According to Pickens, you don't have to rely solely on sofas and chairs to provide seating in your home.
There is a more affordable and comfortable alternative available, which is floor cushions. Incorporating them into your space can expand the options and locations where you can sit and unwind.