Tinubu Is In France – Countering The Rumors of Meeting CJN In London
According to the All Progressives Congress (APC) presidential campaign council, Asiwaju Bola Tinubu, the incoming president, is currently in France, contrary to rumours that he was in London to meet with Nigeria's chief justice, Olukayode Ariwoola (CJN).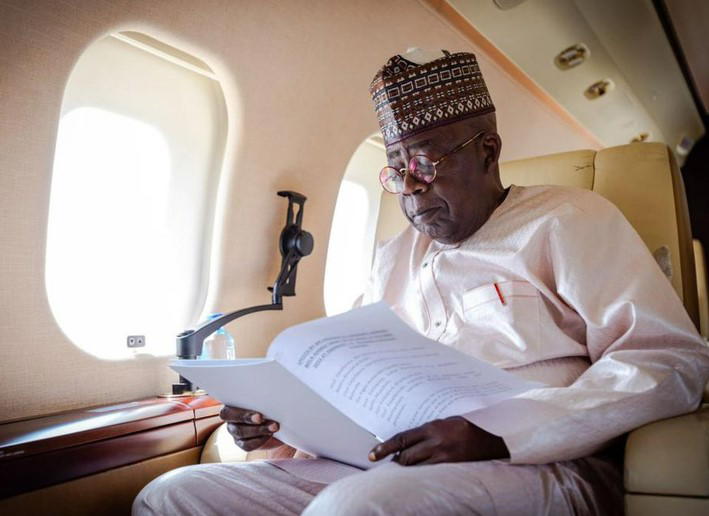 The campaign council claimed no meeting was between Olukayode Ariwoola, Nigeria's chief justice, and Bola Tinubu, the country's incoming president (CJN).
The campaign council's media director, Bayo Onanuga, denounced an effort to cast doubt on the validity of the election that resulted in Tinubu's election as president-elect in a statement on Thursday.
Onanuga said the president-elect is in Paris, France, and not the UK.
'The story was a pure fabrication from the hallucinatory minds of hatchet men bent on creating doubts and public mistrust about the legitimacy of our recent election, which Asiwaju Bola Ahmed Tinubu won,' he said.
"We categorically deny that the president-elect and the esteemed chief justice of our nation have ever met in secret anywhere. It's completely false news that lacks any basis in reality or authenticity.
"It claimed the Chief Justice left Nigeria for London on March 11, using a wheelchair to board a plane, to demonstrate that the story was merely a salacious fiction intended to attract attention to the discredited purveyor.
"On March 21, a full 10 days later, the president-elect left Nigeria. With such wildly different arrival dates, what kind of meeting or appointment could the two men have planned in London? Unless it was the invention of the fake news purveyors, of course."
"We can vouch for the fact that the incoming president, who departed Nigeria on Tuesday, has not been in London. After a busy campaign that started in January 2022, he is currently in France for a well-earned rest.
"He will go to London thereafter before proceeding to Mecca for the lesser Hajj."