Mark Zuckerberg Learns New Skill – Mark Zuckerberg's 3D-Printed Dress Creation.
Mark Zuckerberg, the Chief Executive Officer of Facebook, has picked up a new artistic interest. He has recently acquired the skill of sewing and has begun to design and create dresses using 3D printing technology since the previous month.
3D printing is a technique that produces a 3D object by adding materials like plastics, powders, filaments, or paper layer by layer according to a computer-generated design. This process is also known as additive manufacturing or digital fabrication.
Different types of 3D printing technologies can be used to create objects, and these technologies are Stereolithography (SLA), Selective Laser Sintering (SLS), Fused Deposition Modeling (FDM), Digital Light Process (DLP), Multi Jet Fusion (MJF), PolyJet, Direct Metal Laser Sintering (DMLS), Electron Beam Melting (EBM).
Mark Zuckerberg shared several images on Sunday morning showcasing his daughters wearing the dresses he had made. The first three pictures emphasize the dresses, while the final image depicts his daughter in a heartwarming moment.
He composed a message while posting images of his latest endeavour, "I love building things and recently started designing and 3D printing dresses with the girls. A few projects from the last month… (and yes, I had to learn to sew)."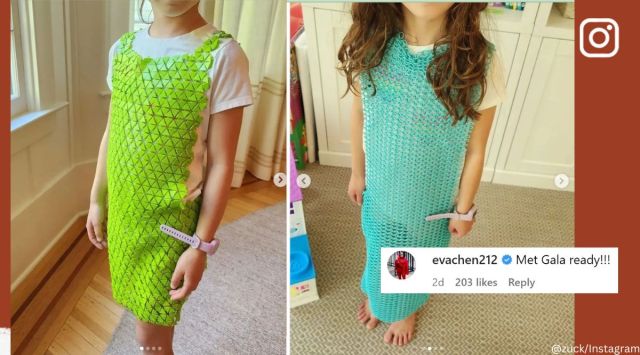 Photo credit: Images of Mr Zuckerberg's kids in CAD 3D-Printed dresses.
His innovation received a positive response on Instagram, and people loved the pictures. Eva Chen, a tech mogul, left a comment on his post expressing her admiration, "Met Gala ready!!!" A few of Mark's followers were curious about the type of printer he used to create his prints. As a matter of fact, one of his followers left a comment, "This is so cool,".
From time to time, many people tend to acquire different interests and pastimes, ranging from singing and dancing to practising martial arts and other activities. Through each hobby, we can discover and gain knowledge about something novel. The Chief Executive Officer of Meta, Mark Zuckerberg, appears to have also taken on a new hobby.