Breaking News – UK Court Jails Ekweremadu, Wife And Obeta Over Organ-Harvesting Plot.
Ike Ekweremadu, a former Nigerian Deputy Senate President, his wife Beatrice, and a medical intermediary, Obinna Obeta, have been sentenced to prison for plotting to traffic a market trader to the UK to remove his kidney.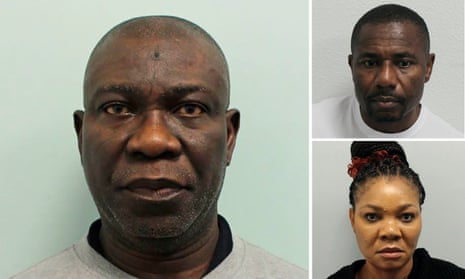 The trio stood trial for conspiring to bring the man from Lagos to the UK for his organ. According to Sky News, the Old Bailey convicted the trio in March.
Ike Ekweremadu's prison sentence was due to his involvement in a heinous crime, which was the first of its kind in the UK. He was convicted of conspiring to extract a man's kidney for his ill daughter Sonia.
Judge Jeremy Johnson, who presided over the case at London's Old Bailey criminal court, described the crime as a "despicable trade" that preyed on vulnerable people in poverty, misery, and desperation.
He went on to say that the act of trafficking human organs across international borders amounted to slavery, treating human beings and their body parts as commodities to be sold. The judge noted that the prison sentence represented a significant fall from grace for Ekweremadu.
During a Friday hearing to determine their sentences, Ekweremadu, 60, was sentenced to nine years and eight months in prison, while his wife Beatrice, 56, was given a sentence of four years and six months imprisonment. Meanwhile, Obeta, 50, received a 10-year prison sentence.
Sonia, the Ekweremadus' daughter who suffers from a severe kidney ailment, shed tears of relief upon being acquitted of the identical accusation."
"The defendants were addressed by Mr. Justice Johnson.": "In each of your cases the offence you committed is so serious that neither a fine nor a community sentence can be justified."
According to the accusation, the 21-year-old street vendor was supposed to receive a reward for giving his organ to Sonia Ekweremadu, who underwent an £80,000 private surgery at London's Royal Free Hospital. This was the first instance where defendants were found guilty of conspiracy to harvest organs under the Modern Slavery Act.
Donating a kidney is legal but becomes illegal if the donor receives any material benefit or financial gain. The prosecution argued that the donor was promised up to £7,000 and a better life in the UK. The donor was unaware he was being asked to donate his kidney until his first consultation with the hospital consultant.
This information was presented in court at the Old Bailey.